Food Hygiene Inspections
Food premises are inspected by Environmental Health. Officers check
Food Hygiene & Safety
Compliance with Structural Requirements
Whether we are confident in how the premises are being managed
Can I check the hygiene rating of a food premises before I go there to eat?
Yes - You can look up a premise's food hygiene rating with the FSA - Food Standard Agency Food Hygiene Ratings
The food hygiene rating shows the rating given at the time of the inspection, and premises standards may have changed since that time.
Once the premises have had inspection it can take up to 28 days for the new rating to appear on the website.
The rating is not for the quality of the food or the standard of service provided to customers.
How do premises get their rating?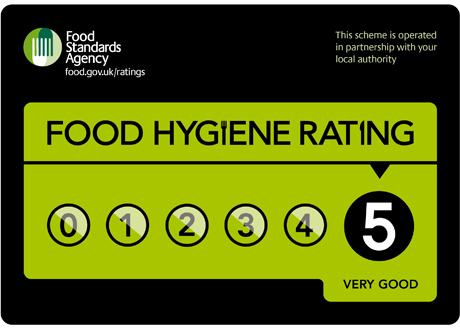 Food businesses are inspected to check that their hygiene standards meet legal requirements. The hygiene standards found at these inspections will be rated from zero which means 'urgent improvement necessary' to the top rating of five which is 'very good'
Food business are given a sticker like the one shown above and a certificate. Businesses are encouraged to display the sticker at the entrance to their premises, so that customers can easily see them and decide if they want to go in.
The Food Standards Agency website has more information about the Food Hygiene Rating Scheme
Can I request a re- visit to get a re-rating as I have made the improvements required?
Yes – You can ask for a re-visit for a re-scoring. A re-visit can only take place 3 months after the original inspection date known as the 'Stand Still' period. There is one exception where you can have a re-visit sooner, and this is where the problems we identified were structural or where new equipment was needed.
You can download a re-visit request form from the related content section.
Can I appeal the rating I have been given?
Yes - You have a right to appeal the rating you have been given.
You have 14 days (including weekends and bank holidays) from the date when you receive your notification letter, or from the date of the inspection, to lodge an appeal.
Please complete and return an appeal form, which can be downloaded from the Related Content.
Is there a fee for a re-visit, if so, how do I pay?
Yes – there is a fee
You can make a payment by bank transfer.
The councils account number is 10542560 sort code 30.80.12.
Please put your business address as the reference.
You can also pay by cheque made payable to Rochford District Council.
Please see page 2 Food - FHRS Re-rating on our Fees and charges page for the current fee