Chairman's Christmas Card Competition
The Chairman of Rochford District Council, Councillor Jack Lawmon, invites young people who live in, or attend an infant or primary school within the district of Rochford, to design the Chairman's 2023 Christmas Card.
Entries should feature Christmas stockings.
Whether this be stockings by the fire overlooking the river crouch or a stocking decorated with your favourite Rochford District Landmarks. This is your opportunity to let your Christmas spirit shine.
Prizes
Winner – A £50 Gift Voucher, and a copy of the finished card which will be sent from the Chairman to the Mayors, Chairmen and other dignitaries around Essex.
Runners Up - £10 Gift Vouchers.
Chairman of the Council
The Chairman of Rochford District Council is the 'First Citizen' of the Rochford district.
As well as presiding over Council meetings and attending local events on behalf of Rochford District Council, the Chairman represents the district at functions organised by neighbouring Civic Heads and other organisations which may benefit the district and its residents.
The Chairman of Rochford District Council for the period May 2023 - May 2024 is Cllr Jack Lawmon
Currently a District Councillor for the Wheatley Ward, Councillor Lawmon has been a member of Rochford District Council since 2014. Cllr Lawmon has lived in the district for 56 years, currently residing in Rayleigh and has two children and 4 grandchildren.
Cllr Jack Lawmon will be supported in his role as Chairman by Vice-Chairman, Cllr S J Page, currently serving as a District Councillor for Trinity Ward.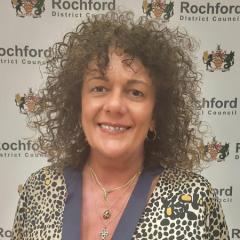 Inviting the Chairman to your event
If you would like to invite the Chairman to your local event, please complete a Chairman's Engagement Form – available in the Related Content section.
If you require further information or have any queries please contact the Civic Officer by email at: civic.officer@rochford.gov.uk.